Administrative privileges required for installation
Latest Update Time:
During the installation of MuMu Player, it is prompted to log in with "Administrator Authority", which can be carried out through the following steps:
Step 1: Put the installation package in another disk, and then open and run. If it does not work, please refer to step 2;
Step 2: Enable permissions
1. Right-click the installation package: "Properties"-"Security" ;
2. Allow "full control" in the system to see if it can be installed normally, if not, please refer to step 3;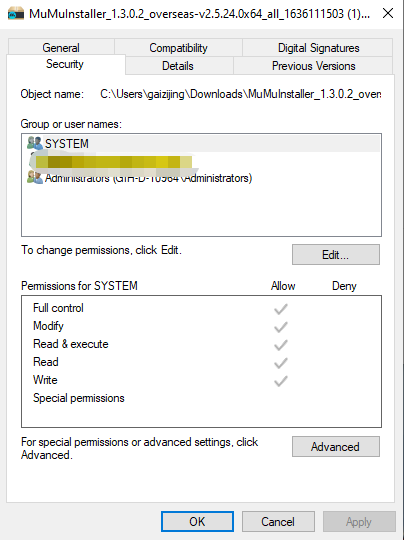 Step 3: Run the installer directly
After clicking "start" of the computer, enter "%tmp%" in the input box and press "Enter", find the exe file starting with nemu in the folder and install it directly.

Consult "online customer service" via Messenger and get more help