With the introduction of Sia Astelle in the January 2023 update of MapleStory M, the free-to-play mobile MMORPG's first original character, heaven was brought to the Maple World. Both the character and the brand-new Star Guardian (Magician class) have never appeared in previous editions of MapleStory M or other global versions of the game.

MapleStory M introduces an all-new Magician class character
The celestial order of stars' abode, Oort, is protected by Sia Astelle. Her primary responsibility is to the cosmos, directing stars on their intended course. Sia arrives in Maple World when she is forced to leave her peaceful life on Oort behind as a result of a sequence of bizarre events.

Along with the brand-new Star Guardian character, MapleStory M's most recent update includes a plethora of improvements and events to kick off the new year right. These include a max EXP stat increase from 250% to 300%, upgrades to the Necro equipment used in the game's endgame, skill presets, and more.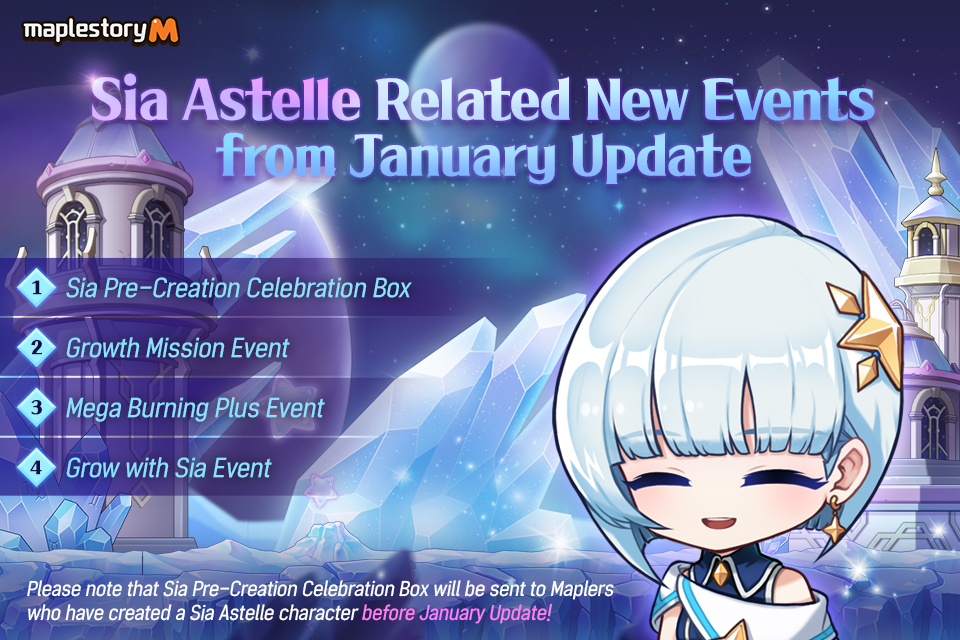 January 2023 update brings new events and several game improvements
Additionally, mobile Maplers can take advantage of extra rewards and events while playing as Sia Astelle:
Pre-creation reward (Thursday, Jan. 12 until Thursday, Jan. 26): Participants in the "Sia Astelle Pre-Creation event" will receive a reward.
Growth mission event (Thursday, Jan. 12 until Monday, Feb. 13): Sia is eligible for rewards after achieving a certain level and finishing specific missions.
Mega Burning Plus event (Thursday, Jan. 12 Monday, Feb. 13): Every time the character levels up, Sia will gain two more levels.
Grow with Sia Astelle event (Thursday, Jan. 12 until Monday, Feb. 13): When Sia levels up, rewards and EXP will be given to a different player with a chosen character.
In Maple World, additional festivities also help bring in the new year.
New Year event: "I Just Wanted to Have a Fulfilling Year, but Being Hero Is Too Much!" (Thursday, Jan. 12 until Thursday, Feb. 23): A series of mini-game events where players must complete various chores, like delivering food, finding cash while hunting and climbing trees to avoid obstacles, to rescue the world. Additionally, Maplers can defeat Lord Pixrog in a boss battle and earn rewards based on the number of participants.
2023 Happy New Year! event (Thursday, Jan. 19 until Thursday, Feb. 2): Lucky red envelopes can be opened by players using the 2023 Special Energy they've collected while hunting.
2023 Lunar New Year 14-day Login event (Thursday, Jan. 19 until Thursday, Feb. 9): For a chance to win rewards, players must log in to MapleStory M for 14 days in a row.
That's all for the MapleStory M January 2023 update. There hasn't been a better time to visit the Maple World and experience cosmic wonders of Sia Astelle.