As a Consulting Producer, David Brevik will join the Torchlight: Infinite development team. He is best known for co-creating the Diablo franchise with Blizzard North. The Torchlight series is expected to make a comeback with its Torchlight: Infinite title, which will be a free-to-play game on iOS and Android devices. The game has been compared to Blizzard Entertainment's Diablo Immortal, which is likely appropriate given that Diablo veteran David Brevik is helping to lead the development team for the new game.
David will aid the team in creating and maintaining a playable and balanced model for Torchlight: Infinite
Anyone familiar with ARPGs and who enjoys loot-filled dungeon crawling is likely to be aware of David's contribution to the development of the iconic Diablo series. He has previously stated quite clearly what his intentions are with Torchlight: Infinite: "We'll collaborate to make the most enjoyable hack and slash game possible, and I'll join the team as a consultant producer."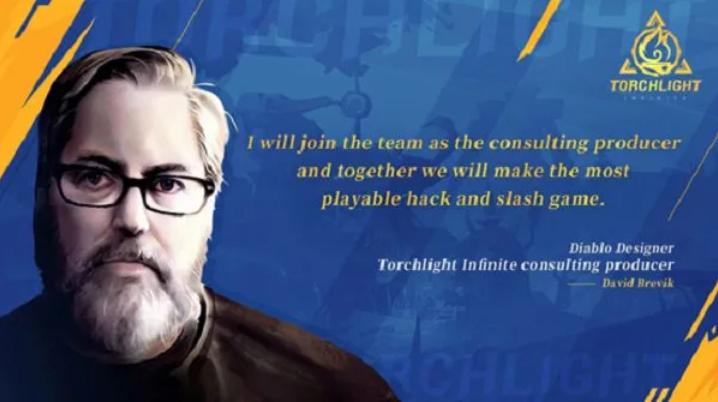 David will work with the team to create and maintain a playable and balanced model for Torchlight: Infinite as it prepares for open beta, taking into account user feedback. The new monetization changes will also be included in the latest version of the game.
The game gives a sneak peek into the new hero Divineshot Carino
After highlighting Gemma's Story, the developers have revealed a new hero, Divineshot Carino. Carino will bring grace, poise, calm, and a completely reasonable perspective to Torchlight: Infinite.
As a marksman, Carino gains several ranged bonuses. He publishes a projectile techniques specialized journal. Carino, the skilled shooter, will haphazardly reload Special Ammo after selecting the Ammo Expert hero trait, adding new effects to the shot. Another of Carino's heroic abilities, Lethal Flash, increases the damage of the next strike after automatically reloading. Carino's story will become clearer as the main plot progresses.
Torchlight: Infinite Open Beta will be going live on October 12
According to XD Inc., the open beta test for Torchlight: Infinite will begin on October 12 of next month. This latest version of the game, which is completely free to play on PC and mobile devices, will include more content and improvements, including the aforementioned monetization changes, and information on Torchlight: Infinite's official release date will be released very soon.