Alchemy Stars, a tactical mobile role-playing game, has received a slew of new updates for Fall 2022, according to Level Infinite and Tourdog Studio. Fall content includes new story chapters as well as special limited-time events to celebrate the season of giving.
Tourdog Studio is holding a special contest where players can vote for up to 5 favorite characters
A new story chapter is available right away, and those who complete Episode 14 will receive the Solamber of a special 6-star Aurorian Vice: Keen Knight. This will coincide with several major story-focused events as well as the limited-time Axelia's Laboratory event.
ꔷ New Main Story Updates: Episode 13 and Episode 14
ꔷ Clear Episode 14 to receive the Solamber of Aurorian Vice: Keen Knight.
ꔷ Main Story Campaign Event – Hourglass of Fate will provide Lumamber and Recharge Packs as rewards, and will remain available until December 14th, 2022.
ꔷ Limited Event: Flight of the Homeward Bound Stars
ꔷ Axelia's Laboratory will be available for a limited time! Receive special rewards by participating in the event until December 12th, 2022.
ꔷ Special log-in events will distribute daily rewards to players until December 14th, 2022.
ꔷ New Aurorians join the roster of Alchemy Stars
ꔷ 6-star Aurorian Axelia and 5-star Aurorian Beretta have appeared as part of a special Heavenly Wings recruitment banner until December 14, 2022. However, they will join the standard recruitment banner once this period ends.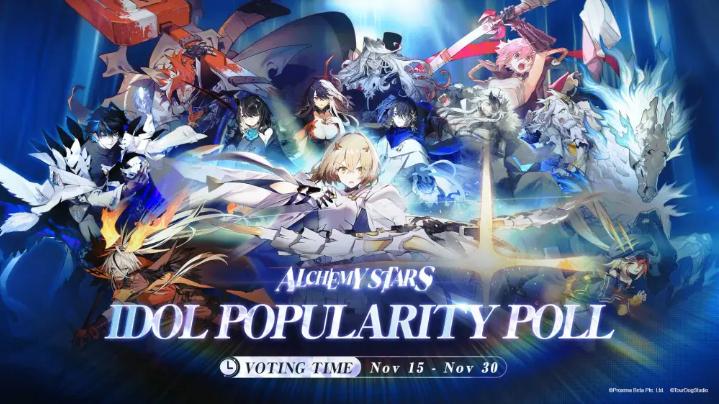 Furthermore, you can vote for up to five of your favorite characters in a special contest hosted by Tourdog Studio to determine which ones are chosen. The idol group will be comprised of those who receive the most votes in the poll. The enigmatic Sariel, the brazen military commander Barton, and even the skilled swordsman Hiiro are all candidates.
A Google Form will be used to collect all votes. However, don't be shy about using specific hashtags on social media to announce who you voted for. The election will take place from November 15 to November 30, 2022. Remember to vote so that your favorite character can make it to the top 5 and join the exclusive idol group known as Alchemy Stars.
Alchemy Stars will also host several Thanksgiving-themed events. On November 24th, 2022, the drops for resources and items will double, and a 5-star guaranteed Aurorian banner will appear. You can also look forward to new content being added to the Cloud Gardens. There are three new diary events, as well as a new fishing hard mode.