Alchemy Stars combines features of tactical fights, gacha character gathering and traditional role-playing game. In Alchemy Stars, you command a group of distinctive characters in turn-based warfare in an effort to get a better understanding of the vast universe around you and grow into the most potent Aurorian possible. Alchemy Stars will definitely fasinate you with its charmingly animated roles full of personality and creative gameplay.
To improve your gaming experience, You can rely on the Alchemy Stars codes of 2022. The developers are quite generous and frequently send codes to the community that allow you access to totally free in-game items. There are no requirements for using these materials, which is always a good thing.
Free gift codes are not cheats, so you don't need to be wary. Numerous mobile games make use this method to assist new gamers and, most importantly, to motivate them to carry on. Also keep in mind that Alchemy Stars is playable on PC by following our instruction even though it was designed for mobile devices.

HERE ARE THE LATEST ALCHEMY STARS CODES

Since the game's debut, the developers have been routinely sending gift codes. As they might become less common later, it's better for you to use them now. However, keep in mind that the creators are highly likely to provide Alchemy Stars codes for significant events in the game (birthdays, special occasions), as well as significant dates in the calendar (New Year, Christmas, Valentine's Day, etc.).
BIRTHDAYCON – free rewards (new!)
ANNIVERSARY0602 – free rewards (new!)
ASTH2022VD – free rewards
ASTH2022CNY – free rewards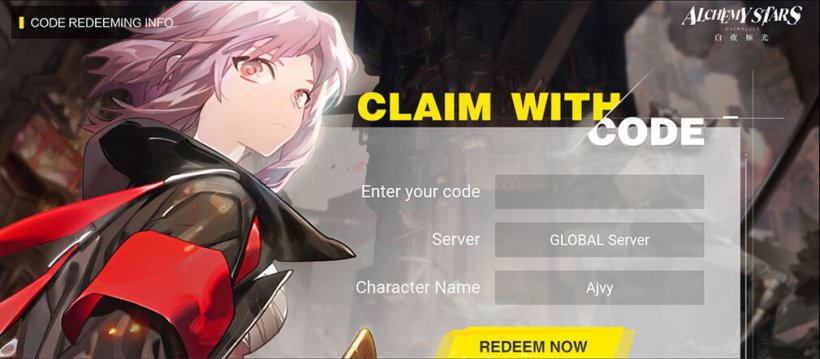 HOW DO I REDEEM ALCHEMY STARS CODES?

It's easy to redeem an Alchemy Stars code. But it should be noted that you must have played a minimum amount of games before you can use the Alchemy Stars codes, as only players who have completed stage 1-9 (Colossus) can activate them.
Open Alchemy Stars on MuMu Player

Complete stage 1-9

Tap on the "!" icon

Scroll down to the bottom of the events tab

Press the "Code Redeeming Center" button

Enter your code, then check your mailbox

Enjoy the free goodies!
Although this may seem obvious, it should be noted that a code can only be used once per account. As the saying goes, all good things must come to an end.